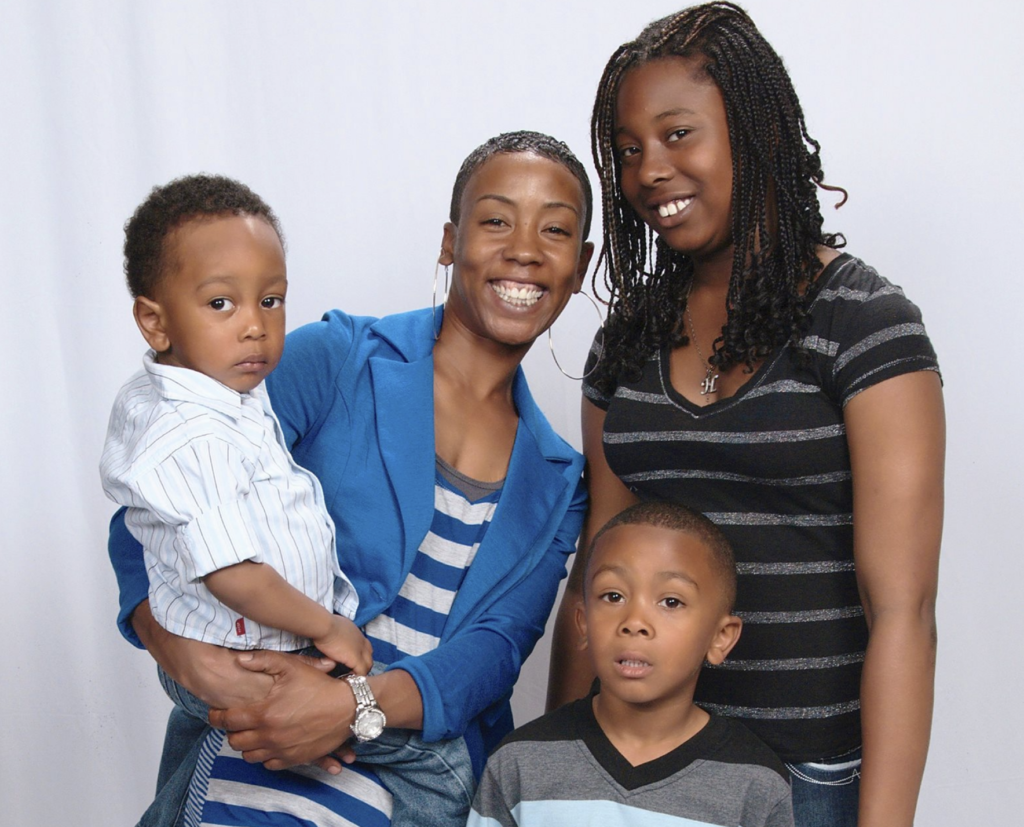 Below is the letter of an Advocate, written on behalf of the family of Kenesha Jackson (pictured above).
Name of the judge: Judge Garry Ichikawa
Court: Solano County, Fairfield
FFL070341 – Jackson, Kenesha v. Highbaugh, Everett
Judge Garry Ichikawa is biased against women and especially against survivors of domestic violence. He becomes embroiled in their matters. He blames them for the actions of the perpetrator of domestic violence. His disregard for the Domestic Violence Prevention Act and his duty to be an impartial adjudicator of facts, puts the lives of victims of domestic violence in grave danger as in the case of Kenesha Jackson.
August 9, 2016 Kenesha Jackson requested a domestic violence restraining order against Everett Highbaugh, the father of their two children Ayonna and Keylen Highbaugh (DVRO Reqest Exhibit A). On September 23, 2016, Judge Garry Ichikawa denied her request. On November 23, 2016, she was gunned down and her children were present. Everett Highbaugh will stand trial for her murder next month. Kenesha's haunting handwritten complaint is attached (Exhibit A). She was clearly begging Judge Ichikawa for help before she was murdered. He refused.
According to Kenesha's pleadings: Mr. Highbaugh was stalking her; He tried to run her over with a car; He harassed their children; Put the children in danger; Disobeyed court orders; He broke into her home and robbed her; Physically attacked her on multiple occasions; Sent harassing vulgar texts; There were multiple phone calls to the police regarding Mr. Highbaugh.
According to court records, there was a long history of domestic violence and a previous domestic violence restraining order (see Exhibit B Solano Court Register of Actions). Kenesha also allegedly told the court at the hearing that Mr. Highbaugh had threated to kill her.
The Court's order after hearing, like most of his orders, are confusing and he blames Kenesha for the violence(see Exhibit C Order After Hearing).
He says "The court denies Respondents request." Kenesha is the Petioner NOT the Respondent. (OAH pg. 2; line 17). He blames Kenesha for Mr. Highbaugh's behavior. "What was needed was for the child being able to gain a degree of separation from Petitioner." (OAH pg. 2 lines 15-16) That statement is an indication that he was likely planning on taking her children and giving them to the abuser as he routinely does in case involving domestic violence. Despite Mr. Highbaugh's violent behavior, this court determined that the children needed to be separated from Kenesha NOT the father. That line of thinking from this jurist was born out of a cry for help from a desperate mother who has since been murdered.
The court also seems to suggest that just because Mr. Highbaugh committed domestic violence against Kenesha, he was not mandated to issue a restraining order. "The commission of an act that technically falls within the restricted activities defining domestic violence does not necessarily mandate the court granting a request for restraining order. The underlying purpose of the entire division of statutes preventing domestic violence is to prevent acts of domestic violence and provide for a separation of the parties to seek a resolution of the causes of the violence. (OAH pg.2 lines 1-5). While the court's interpretation of the DVPA is scary and dangerous, it provides important insight into his thinking in terms of domestic violence. Here he addresses what he believes is the "cause" of domestic violence which in most cases appears to be the woman's behavior according to Judge Ichikawa. In the case of Kenesha Jackson, he says the resolution is to separate the kids from their mother.
The court relies on S.M. v. E.P (2010) 184 Cal.App.4th 1249 in his explanation as to why a threat to "kill" was not grounds to issue a restraining order. Yet, his reliance on that case does not apply here. In that particular case, mother testified at trial that father had never threatened to hurt her before, and that he had never been physical with her. She also added that she had never known father to threaten physical harm other than the threat on that particular occasion. In that case, there was no history of domestic violence. Conversely, in the case of Kenesha Jackson, there was a long history of domestic violence perpetrated by Mr. Highbaugh against Kenesha. Unlike E.P., Kenesha addressed at length Mr. Highbaugh's previous acts of domestic violence against her. She submitted text messages that indicated he admitted he stole her camera from her home. There was also a text as an exhibit where Mr. Highbaugh asked her, "Did you get to suck a dick for your birthday?"
Judge Ichikawa certainly appears to acknowledge in the OAH that Mr. Highbaugh is a perpetrator of domestic violence, but made no effort to protect Kenesha or her children. Now Kenesha is dead.
If the Kenesha Jackson case was not a textbook case for the need for a restraining order then what is, according to the bench at hand? This court routinely gives father's questionable restraining orders against mothers for far less and puts women on indefinite, unexplained supervised visitation (QXXXXX v. QXXXXX XXXXX963 and SXXXXX v. MXXXXX XXXXX359). Please reference their complaints directly (and others). Note the patterns of how he diminishes and discredits women, their requests for protection from the court and over inflates father's claims of abuse.
A judge shall perform the duties of judicial office impartially, competently and diligently. In this case and many of Judge Ichikawa's cases involving domestic violence, Judge Ichikawa woefully neglects his duties. His orders are often a manifestation of his personal views regarding domestic violence and case law that doesn't apply. He focuses on the cause of the violence (according to him the women's behavior) and not the violence (the man's behavior). It the old adage, "She deserved it or she had it coming". In the age of "#metoo", Judge Ichikawa's beliefs are antiquated, dangerous and not appropriate for the courtroom. If ever there was a need to consider keeping a retired judicial officer from returning to the bench, the time is now. His views have infected the entire family law judiciary as the head of the family law department in Solano County. At least one woman has been murdered due to a disregard for abuse by this jurists. As the family of Kenesha Jackson is bracing for a murder trial, I have been given leave to write this complaint on their behalf. I believe the family would be horrified to know that Judge Ichikawa was back on the bench in any capacity, but most especially family law. On behalf of Kenesha Jackson and her family, I am requesting the council review all cases that involved Judge Garry Ichikawa and domestic violence to discover if there is a pattern and practice of bias, embroilment, a failure to be impartial, inappropriate application of case law and made up "facts" to support an improper ruling. I would request that Judge Garry Ichikawa be publicly admonished for his brazen disregard for his duties as it relates to women and domestic violence. I am further requesting that he never return to the bench or at a minimum never adjudicate any family law matters.
I'm requesting the council speak with the following attorneys regarding their opinions about Judge Ichikawa as it relates bias, embroilment, due process, the law, women and survivors of domestic violence.
[NAMES REDACTED BUT CAN BE PROVIDED TO MEDIA UPON REQUEST]
My name is [REDACTED]. I have drafted this complaint on behalf of Kenesha Jackson and her family. The family is grieving, but may be willing to speak with you directly. One of her family members was in the courtroom during Kenesha's hearing regarding the request for a restraining order. Please contact me if you would like to speak to her directly. Please note that Judge Ichikawa was under a Notice of Recall by survivors of domestic violence when he abruptly retired. He was also overturned on appeal for giving a domestic violence perpetrator with a long criminal history custody of minor children in direct defiance of the DVPA, FC3044 and multiple other family codes (CXXXXX v. CXXXXX).
---
Vallejo Man Accused Of Fatally Shooting Mother Of His Children
http://www.thereporter.com/article/NG/20161209/NEWS/161209841
http://www.bryanbraker.com/obituaries/Kenesha-Jackson/
Instead of enforcing a protective order, Ichikawa states that the children need to be separated from petitioner (mother). This is routine practice in Solano County Family Court.
If you are a member of the media and want the full collection of documents, please contact us.
---
In 2015, Judge Ichikawa notably received recognition for being awarded a $300,000 grant from the Department of Justice Office of Violence on Women, to create an Integrated Domestic Violence Court.

Why then, did he routinely refuse to protect victims of domestic violence?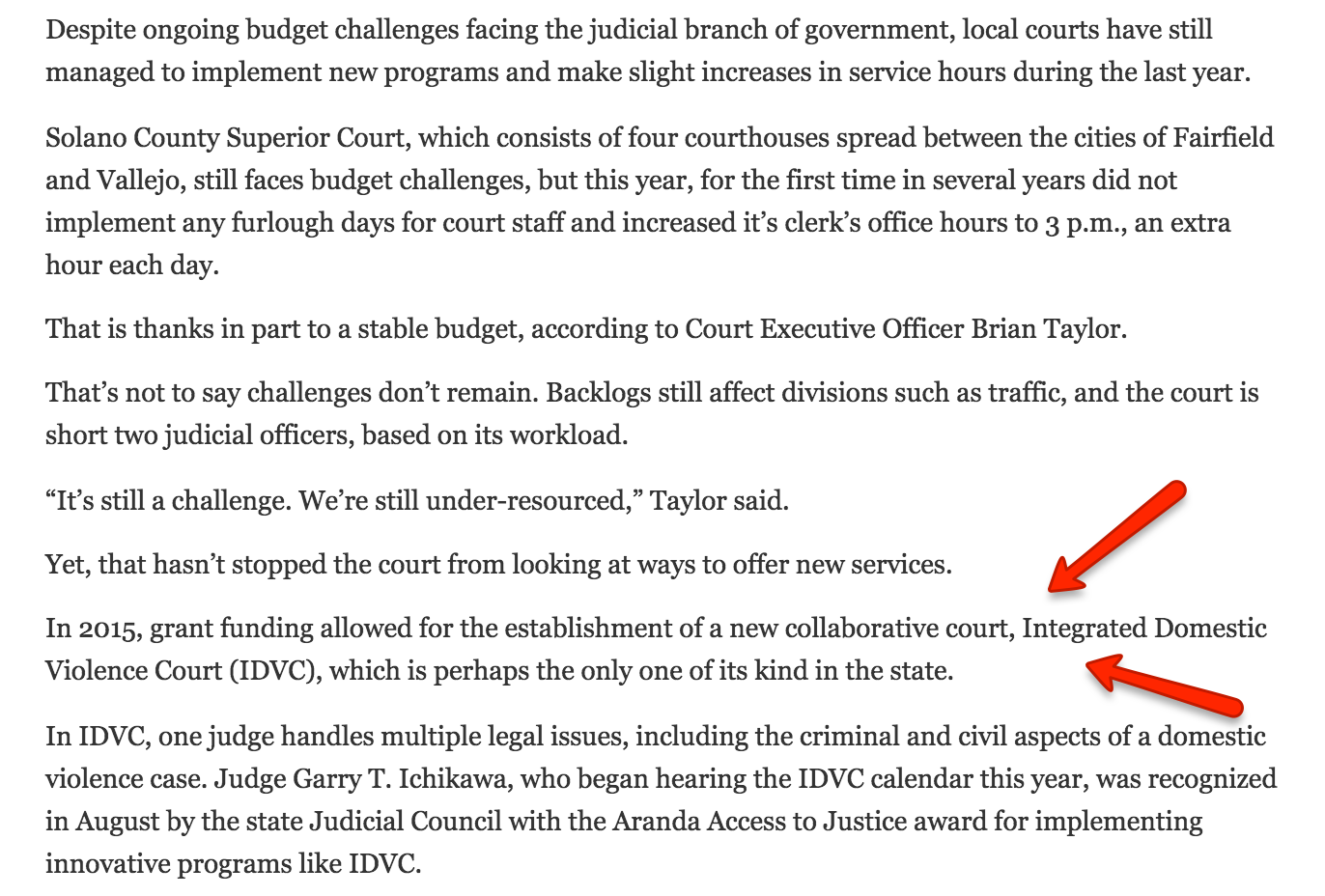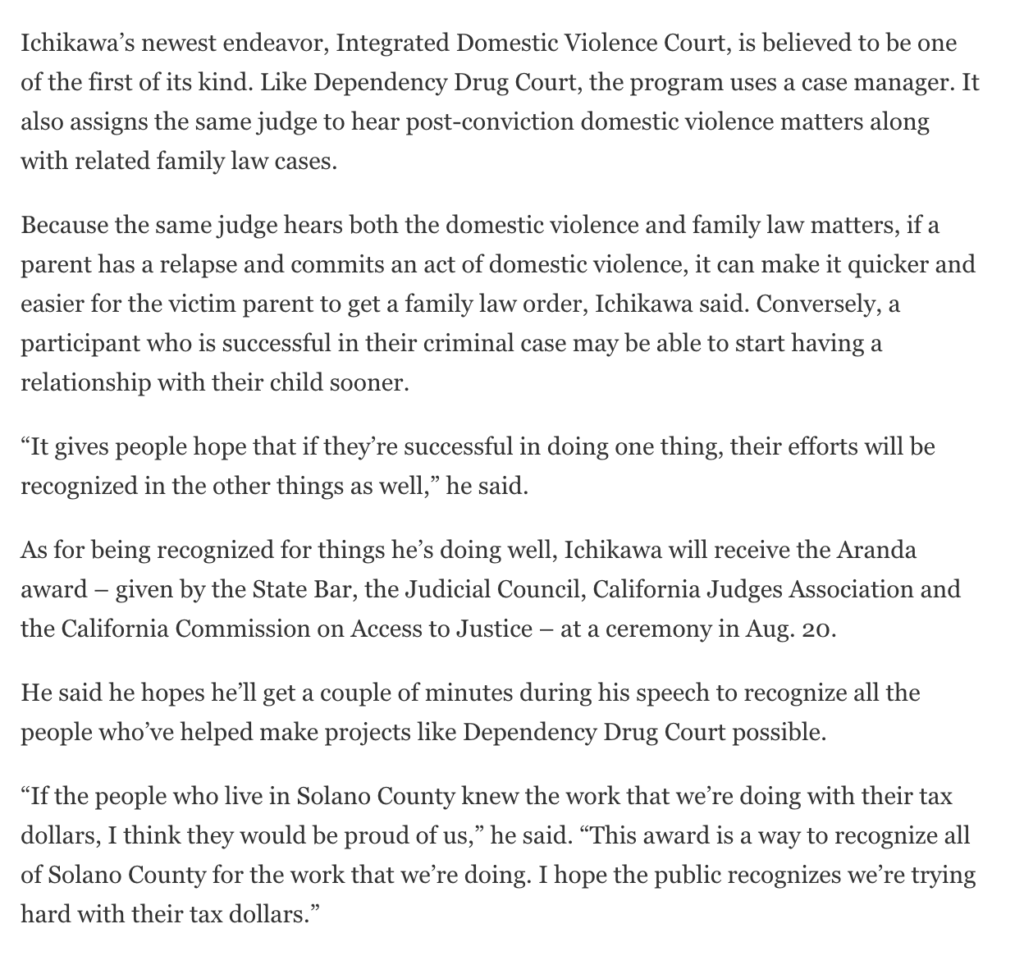 ---
Thank you Son of Baldwin for sharing Kenesha's story